Q & A's From Webinar: How to Accelerate Your Medicinal Product launch in Europe? – Topic of the week : Project Management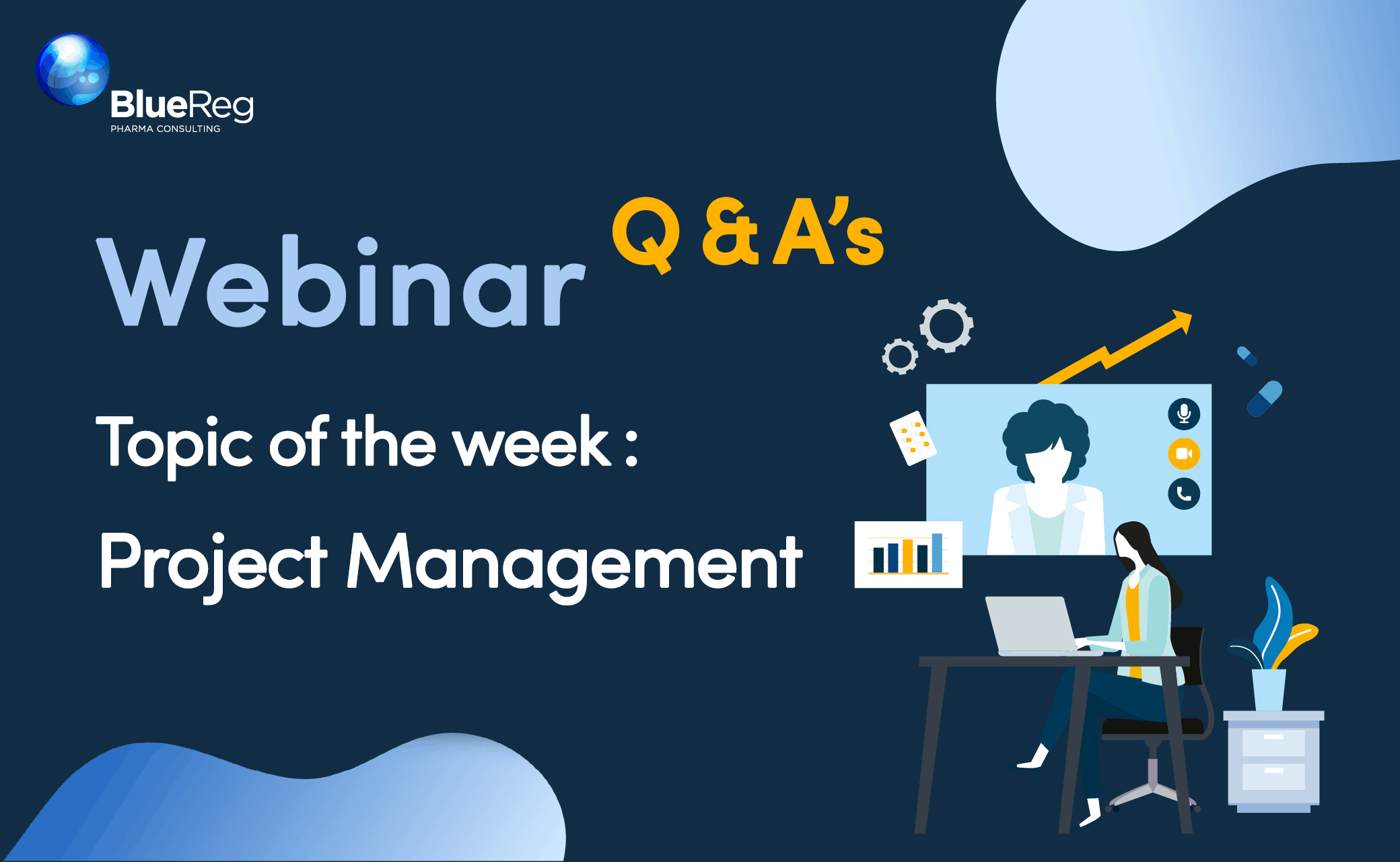 Over the next four weeks we will be sharing all the Q & A's from our previous Webinar on 'How to accelerate your medicinal product launch in Europe'. We have divided the Q & A's into 4 main topics.
Week 1/4 - Topic: Project Management
Question 1:
We are currently setting up our launch governance, our CEO is keen for the supply chain to take the lead. Do you have any thoughts on this?
'So, the supply chain like any other department can take the lead for the launch in fact. The goal is to on-board the appropriate stakeholders and as explained that should involve regulatory, marketing, quality and so on. We really need to be sure that all the local requirements are fulfilled on time to be compliant to the planning.
As an example, let's say that the supply chain takes the lead and your company may like to print the packaging components at risk (I mean before EC decision). When I mention packaging components I speak about the outer and immediate packaging and the patient information leaflet. The inner component can be printed first, as soon as the process linguistic review is completed for the concerned country. But for the outer packaging, it will be linked to the blue box availability, is there a need to validate the blue box at local level, how long it takes to obtain the national code if any, etc that will play a part in determining when the packaging can be finalised.
Regarding the patient leaflet, the formal approval date, information that you get when the EC decision will be issued, will also have to be printed in the patient leaflet (at least month and year). Thus, just with this example, which mainly concerns the manufacture part, without an input from the local team, it will be difficult for the supply chain to do everything by themselves. And I did not address other activities to handle simultaneously. So, any department can lead the launch sequence, but it is essential this is in very close collaboration to the other departments whatever can happen.'
Question 2:
In term of launch sequences, if a company would like to launch in all the EU countries at the same time, how you will manage that? How should you prioritise one market in comparison to another?
'It comes back to my earlier slides about planning and anticipation. Once the initial launch plan is defined, it is important to carefully consider the resources you have to dedicate to the launch at the global and country level. Moreover, based on experience, and even if marketing expects to accelerate the launch in some key countries, the country requirements tend to dictate the launch sequences and timings at the end.
So once you have compiled all requirements linked to the specificities of your product, you can start to assess if your priority countries will match with what you can really do. Your final plan will be a mixture between your company expectations and the real life.
Finally, let's say you conduct several launches in parallel, that will be a very intense period for your team, so do not underestimate the time & effort required. You may need to accelerate even further your recruitment or extend the support provided by your partners.'
Question 3:
We are mainly based in the US with only one affiliate located in Europe. Our product is at the beginning of the registration through the centralised procedure and we are planning to launch in the G5. Is it already too late to initiate the launch plans?
'No, not at all, but of course the time is disappearing quickly so you should not lose more time. As a start, I would initiate the global launch team internally so as to structure the definite priorities for your launch and agree on the R&R of each team members. That should be the very first step.'
Question 4:
We have a very enthusiastic US marketing department who are keen to start promoting our product as soon as possible. How do you manage the challenge of US based marketing teams and navigating the complexities of the European market?
'They are indeed different situations to address, before CHMP opinion, between CHMP opinion and EC decision, and after EC decision. In addition, depending of the type of events, which countries are concerned and the kind of materials you plan to use different responses can occur. For example, a symposium where a discussion around clinical results is possible in one country, maybe forbidden in another one until the EU decision is issued. So, I cannot respond with what is possible or not possible, it's really dependant on the different local regulations. BlueReg are supporting this challenge on a daily basis and can provide you more support if required.'
Question 5:
Nadia, in your presentation, you mentioned planning is key and this should be undertaken in advance. In your experience, when should this planning be initiated in the process?
'The best would be to start planification when you initiate the strategy for the registration in Europe. All the steps are linked together is important when you are considering file submission to plan for approval of your product and how you will market and launch across Europe.'
Question 6:
I would be interested in hearing of any common pitfalls you commonly see with regards to the launch planning?
'I come back to my previous responses… We commonly see companies starting too late in their planning, and even continue to adjust their plan at EC decision. Some start-ups may also consider that they can handle all the local activities at the global level, just by themselves, using existing employees. But there is a real underestimation of the local complexities including language barrier, knowledge of local rules, evolution of local legislation etc..;
Finally, launch is a collaborative planning approach with different stakeholders and we regularly observe a launch plan based on a standalone marketing strategy, which can cause issues further down the line when materials, for example, are not allowed to be used at a national level'.
If you have any questions please do not hesitate to contact us ! See you next week for the next article: 'Q & A's From Webinar: How to Accelerate Your Medicinal Product launch in EU? - Topic of the week: Launch'