Estelle Decarli Senior Consultant Regulatory Affairs at BlueReg is a finalist at the 2020 TOPRA Awards for Regulatory Excellence "Support" category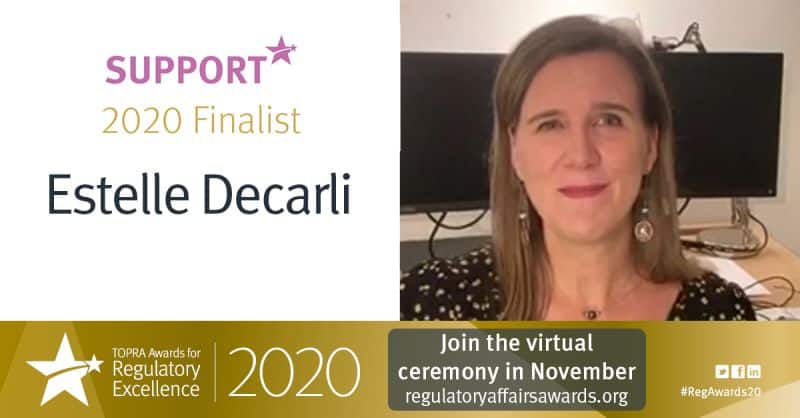 9 November 2020
BLUEREG GROUP
We are thrilled to announce that our very own Estelle Decarli has been shortlisted as a finalist for an award at the 2020 TOPRA awards for Regulatory Excellence, in the "Support" category.
The Support Award is in recognition of the critical role that supporting organisations play in the drug development process and the full lifecycle of the drug.
'Estelle represents the very best of the BlueReg consulting team, demonstrating commitment, agility, team spirit, and integrity. She has repeatedly demonstrated her skillset and expertise in several high-profile projects … challenged perceptions of what was thought possible and exceeded expectations' said Nadia Boehringer, Vice-President Global Head Regulatory & Scientific Affairs
The Awards for Regulatory Excellence were established in 2010 to:
-Reward excellence, wherever it may occur in regulatory affairs
-Highlight the achievements of individuals, teams and organisations in the regulatory affairs community.
Since 2010 the number of categories has grown from five to nine, reflecting the range and level of contributions regulatory professionals make to the sector. In tandem the criteria for each category have also developed – and the processes have been refined to assure independence and integrity during the judging process.
The independent judging panel of at least 20 leading figures in the regulatory sector. The categories are assigned to the judges to ensure that each one is judged from a range of perspectives – and to avoid possible conflicts of interest, eg being given a category which includes a nominee from their organisation.
Join us at the online Awards Ceremony on 19 November to find out who has won this year's Award. It's free to register >> http://bit.ly/2yuQks6
Source : https://www.regulatoryaffairsawards.org
For more information on BlueReg and our services please feel free to contact us !