New Appointment to our Leadership Team !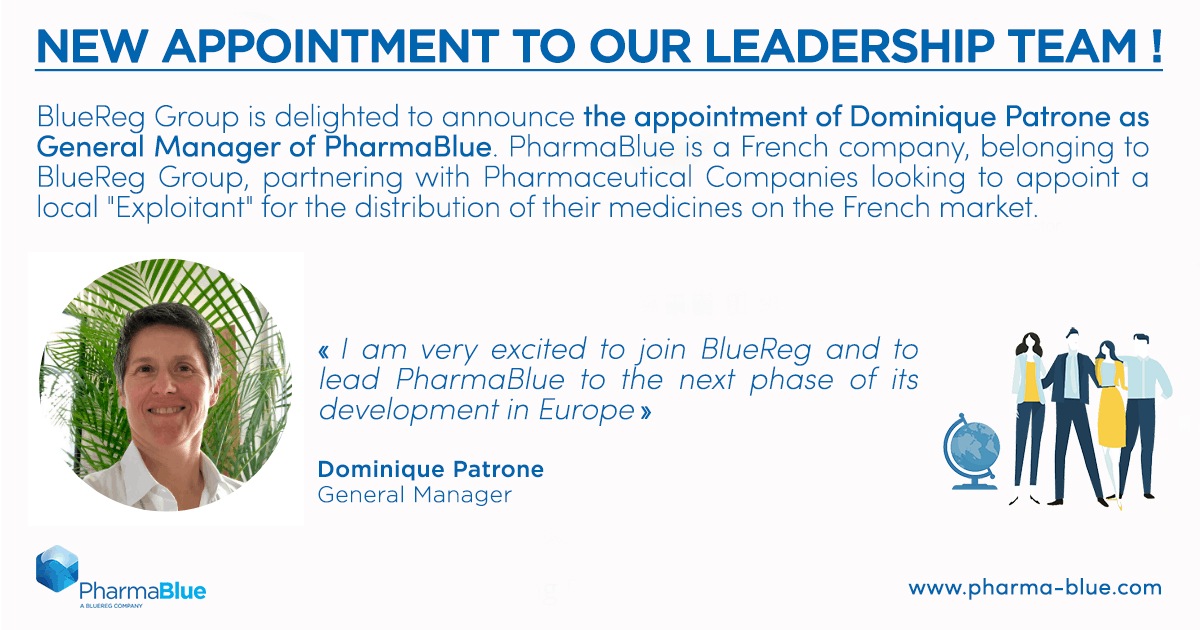 24 April 2020
BLUEREG GROUP
BlueReg Group is delighted to announce the appointment of Dominique Patrone as General Manager of PharmaBlue.
PharmaBlue is a French company, belonging to BlueReg Group, licensed as a Pharmaceutical company ("Exploitant").
PharmaBlue partners with Global Healthcare Companies developing innovative medicinal products for unmet medical need in rare or serious diseases and offers a full platform to allow early commercialisation of these products in France.
Dominique holds a PharmD from the University of Montpellier and a Master's degree in European Regulatory affairs. She is also a qualified quality auditor for the Pharmaceutical Industry.  Dominique has extensive regulatory, PV and quality management skills developed over 25 years in life science consultancies (Parexel & Quintiles)  as well as pharmaceutical companies (Expanscience, Baxter, Novex, Warner Chilcott, Amicus Therapeutics). 
"Dominique brings her considerable expertise and past experience to lead the effective functioning of PharmaBlue operations as well as to propose and implement strategies to develop our EU ambition for this unique BlueReg service offer." said Corinne SCHMITZ CEO of BlueReg Group.
"I am very excited to join BlueReg and to lead PharmaBlue to the next phase of its development in Europe" said Dominique Patrone.
If you'd like to know more about the "Exploitant" status for the distribution of your medicines In France please visit www.pharma-blue.com or send us an email on : contact@pharma-blue.com