EMA GUIDANCE – COVID-19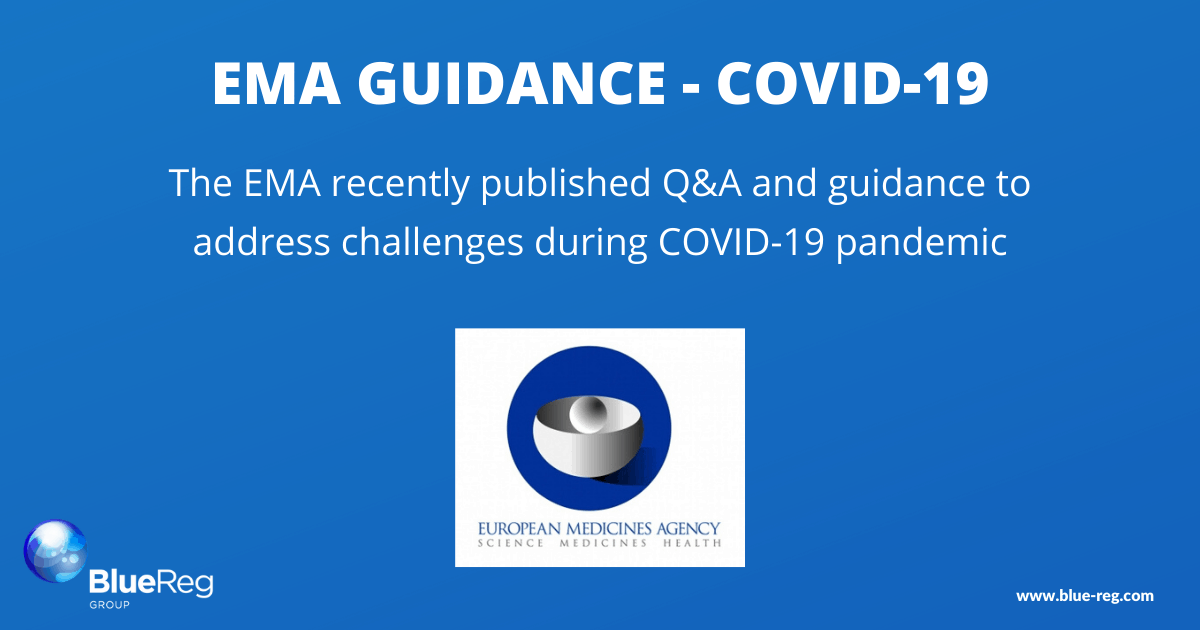 23 April 2020
BLUEREG GROUP
Given the support given to our clients in interactions with health authorities all around the World we maintain a close view on updated regulations and guidance. 
BlueReg continues to monitor the changes in the regulatory guidance and we wish to share with you those updates, particularly as the major regulatory bodies across the globe have updated their response timelines and industry guidance to defend against COVID-19.
The European Medicines Agency (EMA) has established a task force (COVID-ETF) to take quick and coordinated regulatory action related to COVID-19 medicines (last revision April 9th) : https://www.ema.europa.eu/en/news/ema-establishes-task-force-take-quick-coordinated-regulatory-action-related-covid-19-medicines
EMA is working to facilitate the development of treatments and vaccines by simplifying the clinical trials in Europe. It provides specific advice on clinical trials for COVID-19 treatments: https://www.ema.europa.eu/en/human-regulatory/research-development/compliance/good-clinical-practice#guidance-on-clinical-trial-management-during-the-covid-19-pandemic-section
of note, EMA has advised that currently there are forty potential treatments under evaluation, including remdesivir, lopinavir, hydroxychloroquine, interferon beta and some monoclonal antibodies. Twelve vaccines are in development, 2 of these are already in Phase I clinical trials.
The European Commission, EMA and the European medicines regulatory network have developed a Q&A document to provide guidance to stakeholders on adaptations to the regulatory framework to address challenges arising from the COVID-19 pandemic, with a particular focus on crucial medicines for use in COVID-19 patients (last revision April 17th) : https://ec.europa.eu/health/sites/health/files/human-se/docs/guidance_regulatory_covid19_en.pdf and https://ec.europa.eu/health/sites/health/files/human-use/docs/guidance_regulatory_covid19_en.pdf
With 440 COVID-19 related clinical trials identified worldwide on April 13th and then 860 studies identified worldwide on April 20th, pharmaceutical research on an emerging virus has never been so rapid, with the help of the regulatory flexibility provided by the new guidelines.
Link of interest : https://www.ema.europa.eu/en/human-regulatory/overview/public-health-threats/coronavirus-disease-covid-19