Corinne Schmitz, CEO of BlueReg, winner of the Women Equity 2020 Award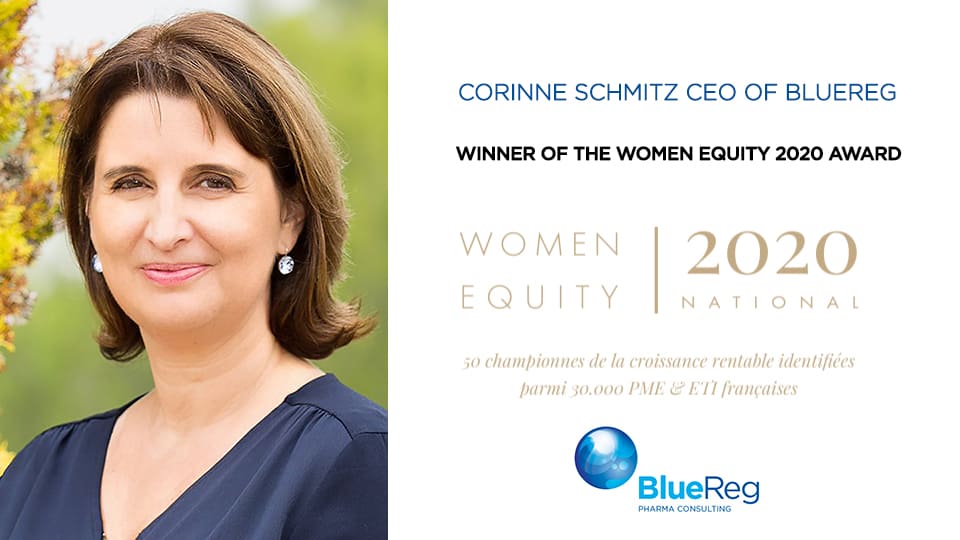 22 January 2021
BLUEREG GROUP
Doctor of Pharmacy, Corinne Schmitz has worked for more than twenty years in the pharmaceutical industry, in major companies such as Roche, GSK and Allergan. She created BlueReg in 2011 and started the international development outside France in 2015.
"I am delighted with this great recognition for BlueReg and for the whole team. I am convinced that gender balance in economic leadership is one of the key factors for success and sustainable growth" said Corinne Schmitz.
What is Women Equity?
The Women Equity Program is the first initiative in Europe dedicated to showcase growth SMEs headed by women. Its mission is to accompany and support their companies both financially and operationally, increase their visibility and expand their networks within industry. It helps with a variety of company issues during their growth phase (financing, gearing, restructuring of capital, strategy and governance, etc.) in all business sectors through advisory services and equity investment.
The Women Equity 2020 Palmares
Since 2010, Women Equity has led an initiative to assess and rank growing French SMEs and ETIs headed or co-headed by women. Resulting from a rigorous methodology, this annual showcase highlights the 50 best companies' performance in terms of profitable growth, from an index of several thousand organisations.
Dunya Bouhacene, President of Women Equity: "The winners of the 11th edition of the Women Equity Awards will, of course, post remarkable performances in 2019, which is the reason for their selection, but above all they are giving themselves the means to structure their future growth by working on their margins and increasing their workforce in 2020. From an operational point of view, we can see an acceleration in the digitisation of their activities, a concrete integration of the energy transition into their strategies, all the while placing the question of their corporate responsibility at the forefront and, above all, playing the [business] game in the general interest".
BlueReg's success story and ambitions
BlueReg is a consulting company for the pharmaceutical industry headquartered in Sophia Antipolis, France. In a context where pharmaceutical companies must integrate more and more demanding regulations in order to develop, register and market their health products, BlueReg provides tailor-made strategic and operational support, adapted to any setting from biotech start-ups developing innovative therapies to large pharma companies at peak activity.
With this expertise and a solid reputation acquired initially on the French market, the company is becoming a preferred partner of increasing numbers of European and American companies wishing to serve patient populations in new markets. The opening of an office in London, UK, in 2015 and later Amsterdam in 2018 facilitated its ambition to become the gateway for foreign companies to enter the European market. This was followed by a new US operation that started in New York in 2017 followed by Boston, MA in 2019. It will continue to grow significantly in 2020 with further expansion to be announced, further developing its export share and increasing its workforce to 75.
BlueReg is also developing in a context where the pharmaceutical industry, in constant search for optimization, significantly outsources intellectual, strategic and operational service professions. Faced with stiff competition from large contract research organizations (CROs) offering extensive services such as the conduct of studies and clinical trials, BlueReg stands out by its loyalty to its core values and business: expertise and consulting. It has developed a customer portfolio ensuring recurring revenues in France and abroad (more than a hundred companies have been supported to date).
BlueReg group's activity is structured around three main areas. Half of its revenues come from its services to international companies to accelerate registration and marketing of their drugs in Europe. For companies based in France, BlueReg supports its clients after marketing authorization approval in all aspects of regulatory life cycle management. And, in unique combination with PharmaBlue created in 2015, BlueReg is positioned to provide Early Access Program support allowing pharmaceutical and biotech start-ups to accelerate the availability of their new drugs to patients in France through temporary access authorizations (ATU).
Expansion continued in 2020 with the creation of an operational subsidiary in Mauritius for clinical data management and the preparation of reports or regulatory dossiers. With 45% of exports and 10.8 M€ of turnover in 2019, BlueReg targets 20 M€ of turnover and 100 employees in 2022.